Lanzarote
Biosphere Reserve
Lanzarote, a Spanish island, is the easternmost of the Canary Islands, in the Atlantic Ocean, approximately 125 kilometres off the coast of Africa and 1,000 km from the Iberian Peninsula, covering 845.9 km²; it stands as the fourth largest of the islands.

Lanzarote is situated at 29°00' north, 13°40' west. It is located 11 kilometers north-east of Fuerteventura and only 1 km from La Graciosa. The elongated island has an area of 845,9 km²;. The dimensions of the island are 60 km from north to south and 25 km from west to east. Lanzarote has 213 km of coastline, of which 10 km are sand, 16.5 km are beach, and the remainder are rocky. Its dramatic landscape includes the mountain ranges of Famara (671 m) in the north and Ajaches (608 m) to the south. South of the Famara massif is the El Jable desert which separates Famara and Montañas de Fuego.

Lanzarote's mountains include the Montañas de Fuego located in the Timanfaya National Park. The tallest mountain is Peñas del Chache elevating 670 m above sea level. The "Tunnel of Atlantis" is the largest submerged volcanic tunnel in the world. The island is under protection as a Biosphere Reserve by UNESCO.
More info

Lanzarote in Wikipedia

Lanzarote in Panoramio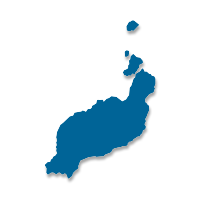 Symbols of Lanzarote
Flag
Not oficially adopted. It seems to be the flag of the capital, Arrecife, being incidentally added the island's coat-of-arms.
Coat of Arms
gules, two cauldrons or. Bordure gules with twelve cauldrons or. Ensigned with a marquis' crown. In the text of the decree approving the coat of arms, the cauldrons are described as chequy or and sable, though they have always been used or.
The arms are those of the Herrera family, one of whose branches were lords and later marquises of Lanzarote, as shown by the crown.
Approved by Decree 2217/64 of 9 Jul 1964 (BOE of 29 Jul).
Municipalities of Lanzarote