La Palma
The Pretty Island
La Palma is located in the Northwest of the Canary Islands. Due to its lush greenery and it outstanding natural beauty it is also nicknamed as the "Isla Bonita" (the pretty island) or the "Isla Verde" (The green island).

La Palma has an area of 706 km²; making it the fifth largest of the seven main Canary Islands.

La Palma's geography is a result of the volcanic formation of the island. The highest peaks reach about 2400 m above sea level, and the foundation of the island reaches more than 3000 m below sea level. The northern part of La Palma is dominated by the Caldera de Taburiente, the largest erosion crater in the world, with a width of 9 km and a depth of 1500 m. It is surrounded by a ring of mountains ranging from 1600 m to 2400 m in height. Only the deep Barranco de las Angustias canyon leads into the inner area of the caldera which is a national park. It can be reached only by hiking. The outer slopes are cut by numerous gorges which run from 2000 m down to the sea. Today, only few of these carry water due to the water tunnels.
More info

La Palma in Wikipedia

La Palma in Panoramio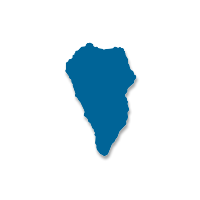 Symbols of La Palma
Flag
The flag of the island of La Palma is vertically divided in two parts, sea blue to the hoist and white to the fly. In the center, the island's coat-of-arms.
Its seems that the colours have been taken from the arms: the blue field and the silver/white archangel.
Approved:
Order of 26 Nov 1990 (BOC of 2 Jan 1991).
Coat of Arms
Coat of Arms of La Palma, (drawn by Eduardo Panizo).
Azure, on waves silver and azure, a tower or, embattled and masoned sable, and issuing from it, a bust of Saint Michael, silver, dressed gules, holding in his dexter hand a scale or, flanked to the sinister by a palmtree or. Border or, with five violets de purpure. Ensigned with a royal crown closed.

The arms of the island of La Palma is based on the one granted, probably by the Catholic Kings or by their daughter Juana to the Cabildo (Council) of the island of La Palma, appearing in the so-called "Pendón de la Conquista", dating from between 1536 and 1556. In order to distinguish these arms from those of the capital town, a border was added, bearing five violets of a species endemic of the island.

The arms of La Palma wee approved by Decree of 10 october 1975.
Flag of Benawara
In recent times, a flag has appeared in Internet that claims to be an alternative to La Palma's official one. Further information.
Municipalities of La Palma