San Cristóbal de La Laguna
Municipality description
San Cristóbal de La Laguna, is situated in Aguere Valley, in the northeast of the island of Tenerife. It was the island's first administrative capital and nowadays it is still the religious capital of the province. The municipality ocupies an area of 102,06 km². La Laguna es una monument town surrounded by mountains in a country spot of strong agricultural tradition. Its historical urban plan began to be built in 1500, being a significant model of a colonial, unfortified town with more than 500 ancient buildings still remaining. For this reason the UNESCO declared it in 1999 World Heritage.

The Plaza del Adelantado owes its name to Alonso Fernández de Lugo, conqueror of Tenerife, and is the town's meeting point. It was built as the town's main square, being surrounded by the buildings of the Market, the Court and the Town Hall. In the centre of the square there is a marble fountain erected in 1870.

Near there lies the Cathedral, dedicated to Our Lady of the Remedies, built on the remains of a 16th church. Of neoclasic style, it became cathedral in 1819 with the creation of the Diocesis of San Cristóbal de La Laguna. Not far from there, the iglesia de La Concepción, founded in the 16th century, was the island's first parish. It has a beautiful 17th century stone renaissance tower.

La Laguna is the seat of the first University created in the Canary Islands. In the outskirts, Las Mercedes Mount has many endemic species with a great scientific interest and is a place ideal to practice trekking.
More information

San Cristóbal de La Laguna on Wikipedia

San Cristóbal de La Laguna on Panoramio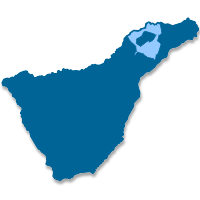 Symbols of San Cristóbal de La Laguna
Flag
Since time unknown, it is used a purple flag with the arms in its centre.
Coat of arms
Granted by Queen Juana of Castile on 23 march 1510, as arms of the island of Tenerife. The town of La Laguna, being the capital of the island during the first times after the Conquest, adopted this emblem as its own.
Or, an island sinople with a volcano proper spitting fire, all on waves azure and silver, between a castle gules and a lion of the same and above the Archangel Saint Michael proper, holding a spear in one hand and a shield in the other. Bordure gules, with the inscription Michael Arcangele Veni in Adjutorium Populo Dei Thenerife Me Fecit. Ensigned with, royal crown, open.
The elements in the arms symbolize the incorporation of the island of Tenerife to the Crown of Castile and Leon and its evangelization under the patronage of Saint Michael.
In the same island...