La Gomera
Nature and magic
La Gomera is the second smallest island of the Canary Islands. The island is of volcanic origin and roughly circular, about 15 miles in diameter and rising to nearly 5000 feet at the central peak of Garajonay. It is shaped rather like half of a peeled orange from which the segments have been parted, leaving deep ravines or barrancos which are coated, like icing, with laurisilva - or laurel rain forest.

The upper reaches of this densely wooded region are almost permanently shrouded in cloud and swirling mist, which has created lush and diverse vegetation. This is the Garajonay National Park which enjoys UNESCO recognition and protection of the environment. The slopes are criss-crossed by paths, presenting varying levels of challenge to walkers, and stunning views to reward the energetic.

The central mountains catch the moisture from the trade wind clouds and create a jungle climate rich in vegetation high in the cooler air, which contrasts with the warmer sun-baked cliffs near sea level.

Between these extremes is a fascinating range of vegetation, and the Gomerans have for centuries farmed the lower levels, channelling water for the irrigation of their vines, fruits and vegetables, such as bananas.
More info

La Gomera in Wikipedia

La Gomera in Panoramio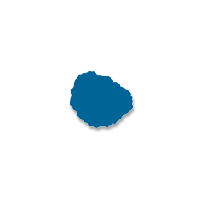 Symbols of La Gomera
Flag
Adopted with occasion of the Canary Islands Day, 30 May 1999. The objects in the upper left corner are: a "ganigo" (earthenware vasel typical of the aboriginal culture) proper on a white silhouette of the island, and a white square sail with a green cross "patée", representing Columbus' caravels, which made an intermediate stop at the island, and that is why it is called "the Columbian island".
Coat of Arms
The arms of La Gomera are gules, two cauldrons or. Border gules with twelve cauldrons or. Ensigned with a count's crown.

The arms are those of the Herrera family, who owned the title of counts of La Gomera, as shown in the crown.
Approved:
Order Consejería de Presidencia of 25 Jun 1999 (BOC of 2 Aug).
Municipalities of La Gomera