Valverde
Description of Valverde
Valverde (Spanish meaning "green valley") is located on the north-east part of El Hierro (the rest of the island being the municipality of La Frontera). The town of the same name serves as the island's official capital. It is both the smallest Canarian capital and, at an altitude of 571m, the only one not located by the sea. The town's airport and seaport are both several km away on the island's east coast.

The municipality's population is 5,797 (ISTAC, 2003), its density is 55.93/km²; and the area is 103.64 km²;.

Pastureland and smallholdings dominate the central plateau area with pine and cloud forest at progressively higher elevations. The coastal areas and lower slopes are arid and mainly left to unimproved scrub and sparse grassland. Volcanism is prominent, with several cinder cones and areas of lava flow to be seen.
More info

Valverde in Wikipedia

Valverde in Panoramio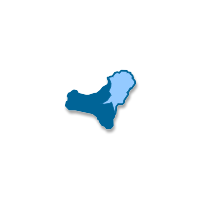 Symbols of Valverde
Flag
No flag yet.
Coat of Arms
The coat of arms of Valverde is azure, a tree or, on a terrasse vert, distilling pours silver, issuing from a pool of the same. Ensigned with a count's crowm.

The only element of the arms the Garoé or Holly Tree, that condensed in its branches the mist and distilled it as rain, thus supplying water to the first inhabitants of the area.

The arms were approved by Decree of 11 april 1969.
In the same island...