Adeje
Municipality description
Adeje is situated in the west coast of the island of Tenerife. Its territory occupies an area of 105,94 km² and its administrative centre is 280 m high over sea level

Adeje is a traditionally agricultural municipality, though in the last decades tourism has nearly monopolized its economical activity. The touristic centre, Costa Adeje, has experienced a notable increase.

Playa de las Américas, together with Los Cristianos, this last belonging to the adjacent municipality of Arona, make up an important urban agglomeration that welcomes most tourists in Tenerife.

Among the municipality's natural attractions we can find the Macizo de Adeje and the Barranco del Infierno, a natural park of great beauty, one of most known in the island, visited by excursionists and tourists all the year.
More information

Adeje in Wikipedia

Adeje in Panoramio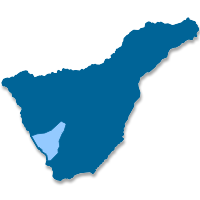 Symbols of Adeje
Flag
The Adeje Town Council uses, unofficially, a white flag with the municipal coat of arms in the centre.
Coat-of-arms
Per pale and per fess. First, gules, an añepa (aboriginal command staff) in bar between two gánigos (aboriginal pots) of the same. Second, gules, a tower argent, mazoned sable and with gate and windows of the same. Third, azure, a sun or issuing from waves argent and azure. Ensigned with a marquis' crest coronet.
The añepa in the first quarter was a symbol of power among the aboriginal inhabitants of Tenerife, and together with the gánigos symbolizes the fact that Adeje was the seat of one of the most important kingdoms of the island prior to the Castilian conquest. The tower represents the Casa Fuerte, the residence of the Lords of Adeje, whose title of marquis is shown by the coronet. The third quarter symbolizes the importance of the tourist activity of the municipality's coast.
Approved:
Order Consejería de Presidencia of 24 may 1991 (BOC of 5 june).
In the same island...